Address:1120-E Cambridge Road
Enjoy the Outer Banks beaches with a touch of Caribbean-inspired vibrancy at Cambridge Reserve! Explore the latest design of Town-Home style condominiums, with a focus on lifestyle, value and comfort. These 2 and 3 bedroom additions to our Bermuda Bay community are perfect for families, small groups, or just a vacation with friends! The fun and lively colors of the community bring a playful vibe to Cambridge Reserve's relaxing setting, where you can rest under sun-shaded fabric cabanas or take a dip in the water. Visit the Elbow Beach Club with a seasonal outdoor pool and miniature water park, perfect for family fun.

Across from the Wright Brothers Memorial, Cambridge Reserve is a short distance from favorite OBX attractions, great restaurants, grocery stores and historical sites. Take a short drive or enjoy a nice bike ride to the numerous local beach accesses across the way, all of which provide plenty of parking. Enjoy maintenance free living with resort style amenities all while living moments from the beach, in the heart of Kill Devil Hills!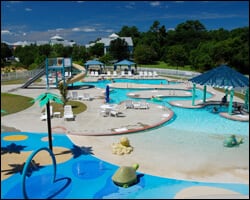 Bermuda Bay Pool Hours 2019
May 11-12: 10 AM-7 PM / Weekend ONLY
May 18-19: 10 AM–7 PM / Weekend ONLY
May 24-June 16: 10 AM-7 PM / Daily
June 17-Sep 2: 9 AM–9 PM / Daily
Sep 3-22: 10 AM-7 PM / Daily
Sep 28-29: 10 AM–7 PM / Weekend ONLY
Oct 5-6: 10 AM–7 PM / Weekend ONLY
Oct 12-13: 10 AM–7 PM / Weekend ONLY
Pool Closes for the season Oct 15

*Clubhouse hours may vary according to season