This colorful community is located in the Bermuda Bay community in Kill Devil Hills, North Carolina and perfect for families, group or wedding accommodations or a vacation with friends. The fun and lively colors of Bermuda Bay embrace the authentic island-inspired architecture and make you want to play, and at the Elbow Beach Club and Pool you can do just that. Relax under sun-shaded fabric cabanas or take a dip in the meandering pool. The aqua slide and other water-feature amusements will delight water lovers of all ages. Volleyball contributes to the activity-oriented park and the clubhouse, complete with a pool table and fitness center. Bermuda Bay is a Westside community located in the heart of the Outer Banks in Kill Devil Hills, across from the Wright Brothers Memorial. Cambridge Cove is a short distance from shopping, restaurants, grocery stores and historical attractions. Take a short drive to the numerous local beach accesses, all of which provide plenty of parking.
CAMBRIDGE COVE VACATION HOMES FEATURE:
Cambridge Cove comprises of two and three bedroom town homes. These Outer Banks vacation rentals feature a garage, multiple balconies, and fully equipped kitchens. With two levels of living space and multiple covered decks, there is plenty of space for everyone. The spacious bedrooms come with linens provided and KEES provides bath towels as well. Make Cambridge Cove your home away from home. Only have a long weekend? No problem, with KEES FlexStay you choose the check in day with no seven night minimums. Relax in the Bermuda Bay community and book Cambridge Cove for your next trip to the Outer Banks!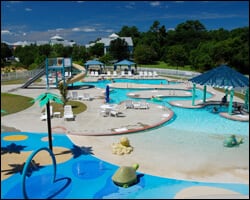 Bermuda Bay Pool Hours 2019
May 11-12: 10 AM-7 PM / Weekend ONLY
May 18-19: 10 AM–7 PM / Weekend ONLY
May 24-June 16: 10 AM-7 PM / Daily
June 17-Sep 2: 9 AM–9 PM / Daily
Sep 3-22: 10 AM-7 PM / Daily
Sep 28-29: 10 AM–7 PM / Weekend ONLY
Oct 5-6: 10 AM–7 PM / Weekend ONLY
Oct 12-13: 10 AM–7 PM / Weekend ONLY
Pool Closes for the season Oct 15

*Clubhouse hours may vary according to season