Sitting on the eastern side of Roanoke Island, Manteo is one of the most unique and charming Outer Banks locations that make up the chain of barrier islands. Its geography is unlike any of its neighboring towns; although Manteo is not along the coast of the Atlantic, it is surrounded by popular waterfront settings in the Outer Banks.
Book Your Manteo Vacation
Distant yet easily traveled to, Manteo is effortlessly accessible from South Nags Head and connected by the major highway. Wrapped around Shallowbag Bay, sailing from Manteo's shores is loved because of its premier fishing location. The Outer Banks views are scenic and the location couldn't be more ideal for excursions on the Roanoke Sound.

The bodies of water aren't the only things that separate Manteo from the mainland. Aesthetically, Manteo provides a variety of different settings than the typical Outer Banks landscape with its forested environments, historic attractions and quaint Manteo downtown and waterfront.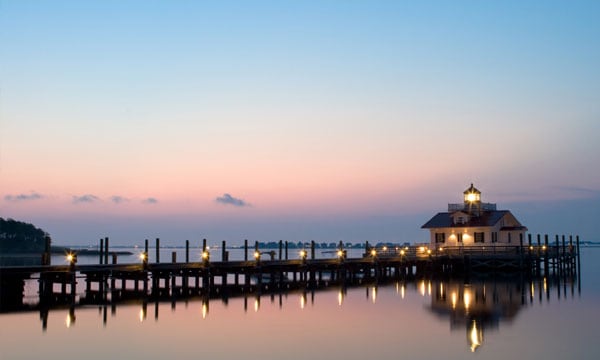 Plan Your Manteo OBX Vacation
Visitors can spend their entire Outer Banks vacation just within this tranquil area. From the Elizabethan Gardens to the Fort Raleigh National Historic Site and the Lost Colony exhibits nearby, Manteo is home to plenty of exploration. A fantastic area for watersports, spend a day out on the Sound and take in the picturesque setting. There are plenty of entertainment options throughout the Island, and some of the OBX's top rated shopping and dining are minutes from your vacation rental.

What are you waiting for?
Book your Manteo Outer Banks beach vacation today!